Dry Erase Board Paint Coatings In Calgary |
Idea Paint
How To Apply Dry Erase Board Paint To A Wall Or Any Surface
Eco Star Painting recently had the opportunity to use a cool product called Idea Paint. Idea Paint is a unique coating that can be applied to almost any surface. It can turn virtually any surface turns into a dry erase board.
IdeaPaint was invented by John Goscha in 2002 and created the whiteboard paint category within the whiteboard market
IdeaPaint comes in two different formulas called "PRO" and "CREATE". Both are a double coat roller applied paint (CREATE can be sprayed as well), and can be painted over any smooth surface. "PRO" is the original most durable formula of IdeaPaint, carrying a lifetime warranty. Its disadvantage is a concentrated odor during installation and soupy consistency. For this reason, Eco Star Painting has decided not to use this version of the line.
"CREATE," their newer formula, is ISO free and low odor. PRO comes in different colors such as white, open white, white sand, light gray, and light beige. CREATE comes in white, black and clear.[9] With CREATE CLEAR colored walls can be made dry erase.
We used the 'Create' line in a clear finish…The advantage of using a clear coat is that you can use any paint color you like underneath this product. In other words, it doesn't have to be a traditional "White" Board"
You get 50 sq feet of coverage to the box…Cost of one Box was $225 + shipping.The homeowner, Jacelyn B,  asked us to apply the Idea Paint to a basement wall so her son can do his math (calculus) formulas and homework in a uniquely fun way.
What's cool about this product is that one can coat virtually anything and you'll produce a dry erase board surface. Imagine coating a children's desk so they can sit down and 'create' without any paper!…It would be fun if applied to a Kid's Bedroom Walls too.
 Step BY Step Instructions:
 Repaired all the drywall damage with spackle, and sanded the wall smooth.

 Apply a primer/sealer to the wall.

 Apply  2 coats of Dulux Lifemaster Eggshell Paint in a color called 'Classic Grey" ( matched from a Benjamin Moore Color fan-deck.)

 Allow the primer dry overnight. The next day I gave the wall a light sand with a Dustless Festool Sander.

Next, I masked off the areas not being painted and covered the floor with plastic.

The final step was to apply the Idea Paint. It comes in two parts called "This and That". Combined together it is activated like an epoxy and you have one hour to apply it. I used a 2.5″ brush to cut in the wall and then rolled the product with a 10mm (3/8")  Lint Free Sleeve.
Conclusion:
The Idea Paint rolled very well but it was important not to overload the roller or move too fast because it tended to drip & splatter somewhat. You must mask off everything very very carefully and protect the floors with plastic and drop cloths.
When rolling, apply the coating and then back-roll to smooth it out. It sets up pretty quick so you don't want to repeatedly go over the surface. You basically have 15-20 minutes to do any touch-ups while it is still wet.  As long as you roll it at a reasonably steady pace you should be fine.
Idea Paint takes 7 days to cure.
Jacelyn B (homeowner)  wrote:
"Ted at Eco Star Painting---- painted the ENTIRE inside of our 100-year-old house to transform it into a light and bright space. Most recently he transformed a whole wall with specialized whiteboard paint (Idea Paint) that our son uses for all his high school homework. Ted is a perfectionist and it shows in the quality of his work. We will continue to use Eco Star Painting in the future and recommend this company without hesitation!"
New Product From Idea Paint: Magnetic Primer
Turn Any Wall into a Magnetic Surface or Magnetic Dry Erase Board
Idea Paint created a Magnetic primer which has up to 2X stronger magnetic properties than other similar primers. This is a standalone coating that can be top coated with latex paint to create a wall that will accept magnets. In fact, the possibilities are endless----prime any surface to get the magnetic properties.
The system can be used for home or commercial settings. It's low VOC and UL GREENGUARD Gold Certified.
The Idea paint manufacturer states: "For best results, IdeaPaint magnetic primer and the PULL system should be used with rare earth magnets, such IdeaPaint brand magnets, and other neodymium magnets."
The Dry Erase Board Paint can be used with the magnetic primers to turn any wall into a magnetic, erasable idea platform.
Idea Paint Create
White Dry Erase Paint
Eco Star Painting recently was contracted by Anstice Communications of Calgary to apply Idea Paint-whiteboard paint- to a meeting room wall.
The wall was approximately 70 square feet so a 100 square foot kit of the product was purchased. Idea Paint carries a clear coat as well as a pure white color. They chose the whiteboard color.
The white colored wall was in good condition so the only prep required was a light sanding with 120 grit paper. The top of the baseboard was covered with Frog Tape, and the rest was protected with 8" masking paper. The adjoining walls were also masked and papered. About 4 feet of plastic covered the curtains and artwork on these walls.
There is a bit of a learning curve with this product, as it is thinner and tends to splatter if you are not careful. It's no big deal, you just have to roll the paint slower and take extra care with the brushwork. It can drip a bit and that is why the area must be carefully covered with drop cloths, paper, and plastic.
The Idea Paint Create 'White' is somewhat different to apply than the clear coat. They recommend doing a second coat after it has set up for 15 minutes or so. That's enough time to roll the wall and then go back for another lighter coat. You have one (1)  hour of open time with this product after mixing it's 2 components. The backrolling technique does help with paint coverage. White is never a great color for coverage with any paint. 
In 4-5 days the Idea Paint will cure and Anstice Communications will be able to use their new giant Whiteboard.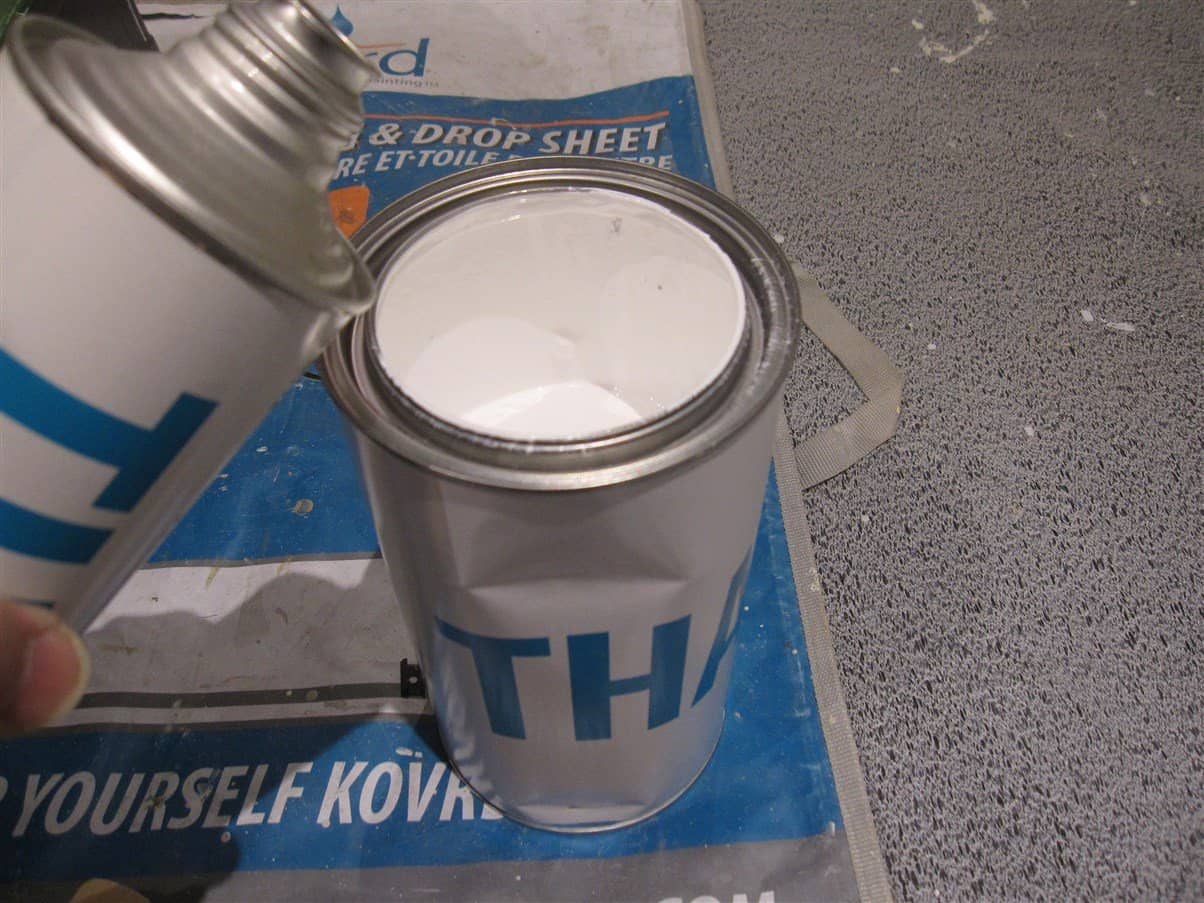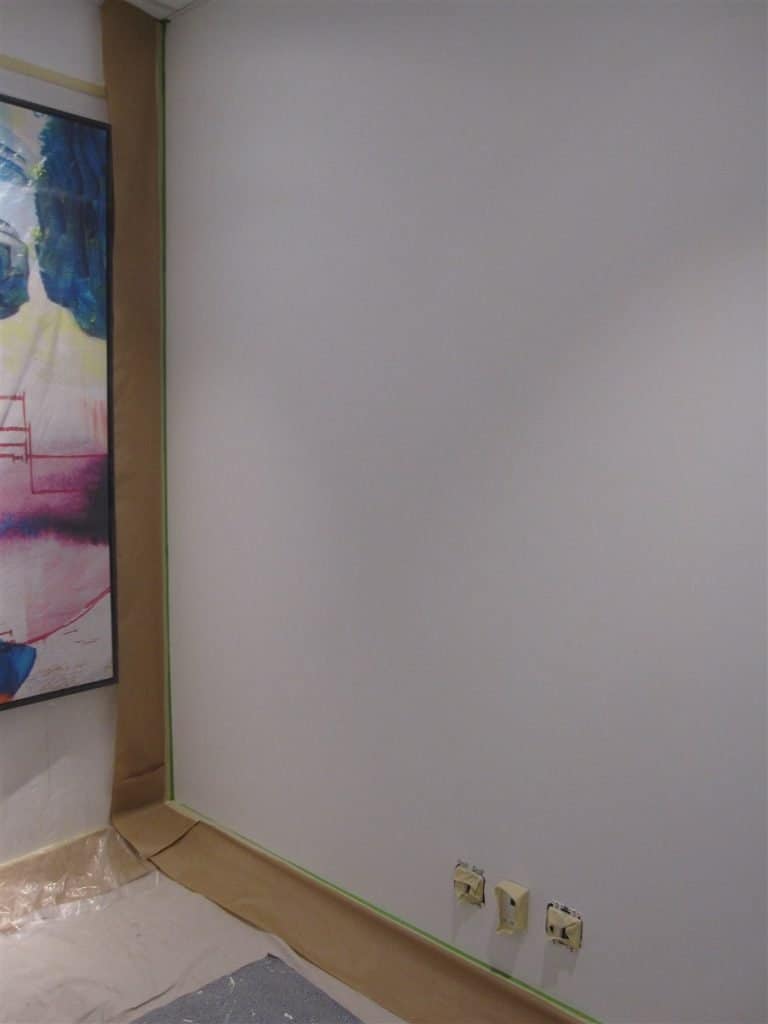 We'll be glad to help
Contact Us