Graco 395 Finish Pro Review | Air Assisted Airless Sprayer
Yes, this is a picture of my Graco 395 FP purchased in 2013
Why am I writing about it 4 years later? Because it has held up well and I didn't have a Blog back then. 🙂
Seriously, we do not pull this rig out every day to use. When you purchase a sprayer of this quality you want to preserve the lifespan of it by using it as a specialist in the world of fine finishing. The generalist would be an airless sprayer like the Graco 495 Ultra or the Graco 695 Ultra for heavier bodied materials. Those pumps can also produce some beautiful finishes but they are not in the same league as the Finish Pro.
The Finish Pro has an added dimension to help atomize material at reduced pump pressures. That dimension is a built-in compressor which pushes out compressed air at the tip. The technology is called Air-Assisted Airless.  You can lower the pump pressure on these sprayers which minimizes over-spray, saves the operator in paint costs and produces better finishes.
Today we use the Graco 395 Finish Pro primarily for Kitchen Cabinet refinishing. This rig is built on the foundation of a Graco 395 Ultra Airless sprayer. If you remove the compressor you'd have an airless sprayer that will replicate the workload of it's little cousin. Why would anyone want to put more treadwear on the tires of this beefed up machine when it is unnecessary? Graco is currently selling the Finish Pro in the 595 series which is a igger pump than the old 395.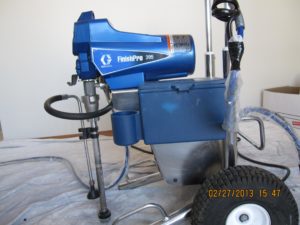 What is AAA?
Air Assisted Airless technology: Paint is delivered to the gun at lower pressure than traditional airless (550-1600 psi vs. 1600-3000+ psi) and is partially atomized through a small tip. Superior atomization, (the transformation of a liquid into a spray of fine particles), is accomplished by adding a small amount of air (5-35 psi) to the edges of the spray fan - resulting in a softer spray pattern and no hard edges common to airless spraying.
Advantages?
-Competes with HVLP for quality finishes
-Moves more material than a HVLP
-Easier to Use than HVLP sprayers because materials don't have to be reduced as much. In fact you don't have to reduce at all with many coatings---straight out of the can!
Benefits of G40 Gun
-You can still use Graco's Rac X system of Spray Tips!
-Reverse the tip if it get's clogged just like on an airless.
-Rac X tips are inexpensive compared to Kremlin & other ultra fine finishing sprayers.
-Graco G40 Gun Included. This is Graco's high- end Paint Gun that retails for about $900 in Canada. It's really held up well for us and I've never had to get it repaired in 4 years.
Aircap
- The Aircap provides holes for the compressed air to help atomize the paint as the material is jettisoned out of the gun. I believe there are 4-6 holes for this purpose and it does a fine job.
-That being said you do have to keep the cap constantly cleaned as it does tend to clog up after a period of time. We keep a tiny wire brush on hand along with a bucket of water for this task. It's no big deal for me but I know of some painters who have purchased the flat tip option for this gun because it doesn't clog.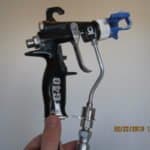 -Graco's Fine Finish tips have been on the market for many years and have proven to be reliable while producing a superior finish.
-Reversible tips allow for easy clearing of clogged tips.
-Switching tip sizes quickly is a great benefit to painters. For example, going from a 4" fan size for deck spindles to a 8" fan for larger surfaces can be done in seconds.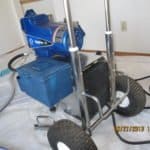 The compressor on this sprayer is made by a quality manufacturer called Thomas and it has never broken down for us or failed to do it's job properly.
-Twin-cylinder design
The compressor on this machine is going constantly and is quite loud---Most compressors are. Because of it's rather small tank it is always running. The specifications say it  delivers 3.2 cfm @ 35 psi
-Able to support up to a .021 tip in airless mode just like the airless 395.
Miscellaneous
-The Graco 395 FP has a built in toolbox for your accessories like spray tips,throat seal lubricant, small  cleaning tools, etc.
-It comes with a big inline filter for added straining protection.
-It has 2 hoses, one for the air and one hose for the fluid. It is wrapped in plastic for added protection.
-The whip hose makes for easy gun  movement.
-The steel hose-holder on the machine is nicely built, allowing for easy storage.
-The electric cord is of a thick gauge and has a fastener at the end which conveniently attaches itself for secure wrapping and storage.