Kitchen Cabinet Painting in Calgary
Are your Kitchen cabinets looking a little tired and worn out?  Don't throw them away!!--- We can bring them back to life.---Buying an entire set of brand new cabinets can be expensive and painting them is a cost-effective way to redecorate your Kitchen.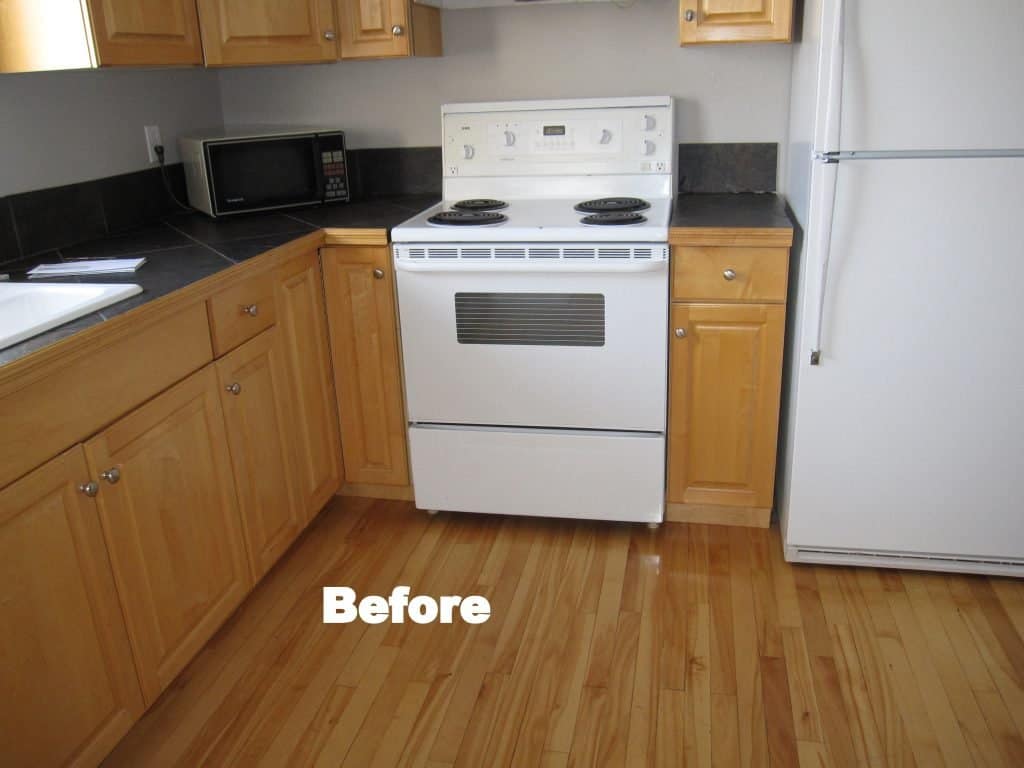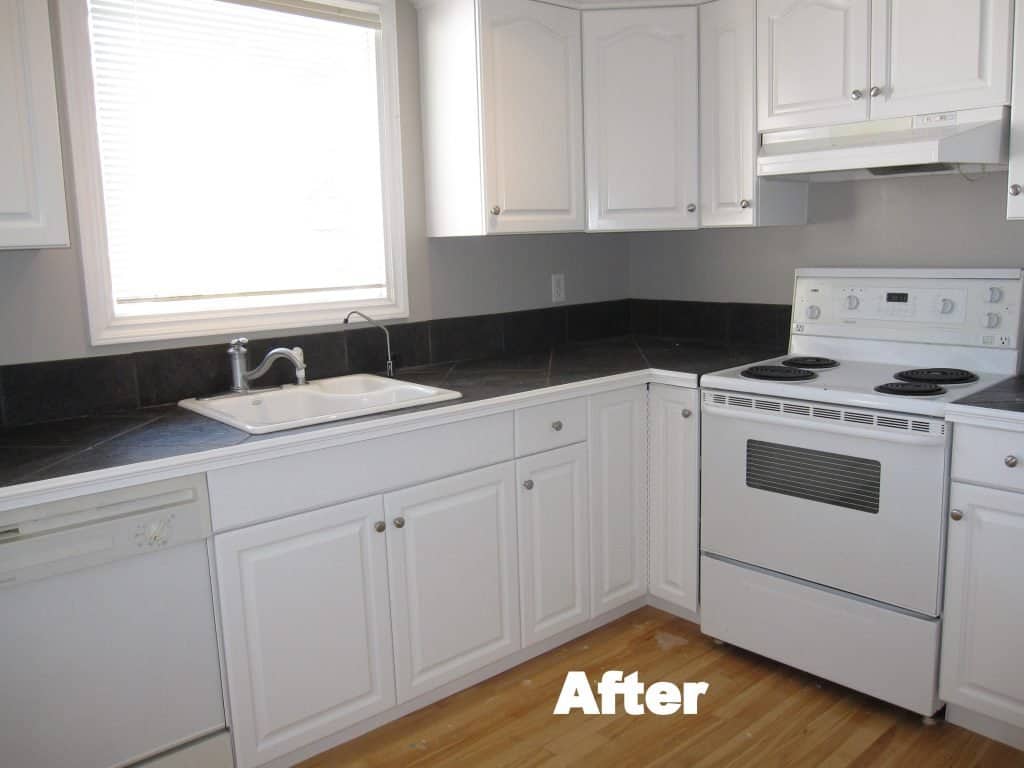 How do we Paint Kitchen Cabinets?
As a trusted Calgary painting company for 25 years Eco Star Painting uses only the highest quality sprayers to apply Kitchen Cabinet Coatings. One of our favorite spray painting machines is a Graco 395 Finish Pro which is an air-assisted airless rig. This produces an outstanding, flawless finish. When lacquer is applied a Titan 115  6-stage portable turbine  HVLP sprayer is used. The following process is one (of several) methods we use to paint kitchen cabinets.
Materials needed:
• Sandpaper: 120,180,220 380 grits • TSP for cleaning cabinets • Green Scotch brand pads for cleaning • Red Bondo for patching • Rattle can of BIN primer for spot priming Bondo • BIN Primer (gallon) or Stix Primer • Micro Fiber tack Cloth • Graco 310 or 312 FF Tip 
Steps:
Wash the cabinets first with TSP and rinse with water.

Repair scratches or dings with Bondo patching compound or wood filler.

Lightly sand with 120 grit garnet sandpaper. Try not to punch through the old poly or lacquer.

Prime with BIN primer if in doubt about the previous coating. This will stick to anything and seal smoke damage or tannin bleed. BIN primer is alcohol based and should be sprayed with an airless.

 I  recommend a 312 Fine finish Low-Pressure Graco tip. We also use water-based primers. Some of the better bonding primers used are  "Gripper Primer" or  "Stix Primer". 

After the primer has dried, we give it light hand sanding 

with  220 or 280  grit paper. 




Blow off dust with compressor air and use a tack cloth. A vacuum with a soft bristle brush is also used. We use a Festool setup that has a Hepa Filter. 

Set up a spray booth in our shop, a room or garage.

 We use a home built turntable with lazy-Susan parts. This turntable is placed on saw horses. A box fan is used to exhaust the dust created in the room. 




We set up an area further away (and protected) for drying the cabinet doors and drawers. A  portable  Hafele dry stand which has 50+ wire shelves is used for stacking them.

Spray the interior of the cabinet doors with a Graco 310 or 312 FF tip




Lightly sand with 400 grit paper after it dries if you see any imperfections

Dust off with a microfiber tack cloth.

Spray the second coat of paint.

 Flip doors over and paint the exterior side.

Allow

 to fully dry before moving them.

The cabinet boxes are finished using the same method.

The final step is to hang the doors and install the drawers. All the handles are reinstalled.
Here are a few videos I shot painting kitchen cabinets in Calgary. The homeowners wanted the cabinets painted in a semi-gloss white; Benjamin Moore CC30 Oxford White. In both cases, the cabinets were over 50 years old and they came out looking great.
In the video, I sprayed them outside which was a first for me. They were immediately taken inside to dry on a rack. We had no choice because the interior of the house was occupied by workers.
We'll be glad to help
Contact Us