Painting Hardie Board In Calgary
- Eco Star Painting
Eco Star Painting has been painting Hardie Board in Calgary for many years. This cement fiber board siding  is also called Hardie Plank.
We have worked on Hardie Board enough times to know how to deal with each isse that may arise. We have developed a system  to complete the project on time and on budget. Our experienced team of  painters are  determined to provide you with outstanding workmanship and exceptional results.
If you are just looking to freshen up your Hardie Board Siding with a new color or as part of a complete exterior painting project we would be happy to assist you.
Eco Star Painting is  licensed and we carry a two million dollar insurance liability on all jobs.
The Eco Star Painting Promise

Keep the project on budget and on schedule
Maintain a tidy job site
Protect  your outdoor furniture,walkways,plants,shrubbery with drop cloths
Make sure that the radio isn't blasting and disturbing anyone
No smoking on job site. None of our painters are allowed to smoke on the property
We'll be On the job from start to finish. We promise to finish the work in the agreed upon time
We promise to have open communication with you  every step of the way
The crew will work in a safe and secure manner when moving ladders or operating equipment. 
We offer a written three year warranty on most exterior projects.This includes labor and materials
What Exactly Is Hardie Board?

Hardie Board or Hardie Plank is composed of  cement, sand, cellulose  fibers (or wood chips) and water.  These ingredients are  combined and cured through a  manufacturing process into a tough siding material. It about a 90% cement and sand mixture.  James Hardie invented this product over 100 years ago and today  it is the most popular siding product in the US.

Hardie plank comes in a variety  colors and shades and is manufactured to look like wood in terms of texture and grain.  Hardie Board siding is impervious to any weather related issues including hail,water, wind or insect infestation.

 

 

Benefits of Using Hardie Board

Weather Resistant
Fire Resistant
Fade Resistance
Very Durable
Insect Resistance
Mildew Resistance
Water Resistance
Pest Control
Rot Resistance

How to Prep Hardie Board

 Power Wash: Just like wood or stucco, Hardie Plank should be power washed prior to painting. Give it a thorough rinse and use a detergent if you see any really dirty areas. Hardie board is mildew resistant but  whatever dirt or organic material on it's surface can attract fungus. Use a mild bleach solution and wash off. A wire brush can come in handy as well.
Surface Repairs: Prior to 2008 Hardi Plank  were 'face nailed' and no flashing was installed behind the butt joints (field joints) . This setup required all of the butt joints to be caulked as well as the nails  heads covered. When doing  the prep work for these  homes you need to remove all the caulking entirely before re-caulking the joints with a pliable acrylic caulk. The worst areas are around the chimney where the entire length needs to be attended too. This often takes hours of tedious work.
Paint Peeling: Paint failure does occur but infrequently. The cause may have been  a factory mishap or it could have been the result of improper installation. When you see paint flaking you use a wire brush and scrape with the grain.
Lightly Sand and spot prime the damaged area with a masonry primer that can handle the PH  of the cement board. We have used Emulsa Bond which is made by Flood. That product is also good for chalky substrates like brick or stucco.

How To Paint Hardie Board

Primer: Hardi Board has been coated with a thin  primer when it is shipped out of the factory but we like to prime the entire surface before applying the two  finish coats. The primer will ensure a more uniform finish and help to seal the cement board. Hardi Board is a very 'thirsty' substrate as it absorbs paint like a sponge. Sealing it with a masonry primer will cut costs on the finish coats. These special primers can handle the high PH of the alkaline Hardi Boards. Back-rolling the primer is advisable so that it drives the sealer into the  cement board. We prefer to spray and immediately back-roll. Hardi has a tendency to show "stop-and-start" marks if you are not careful. One needs to attempt a non stop application to avoid these lap marks. Obviously, it is more difficult to do  at higher elevation so you do that portion in the cool of the morning or the shade if you can. The sun can spoil a finish if you are not careful.

Paint: We prefer to use a high quality flat acrylic paint called 'Dulux Diamond' for Hardie Plank siding.  Dulux Paint in Canada is owned by the large conglomerate PPG.  Our Paint Sprayer of choice is a Graco Airless and we use a reversible Rac X  515 tip at  2300 PSI. The 10" fan is perfect for the lap siding. An 18"Gun Tip Extension Pole is attached to the spray gun. We prefer to spray and back-roll the first coat and then simply spray the final coat of paint.

 
Request A Free No Obligation Quote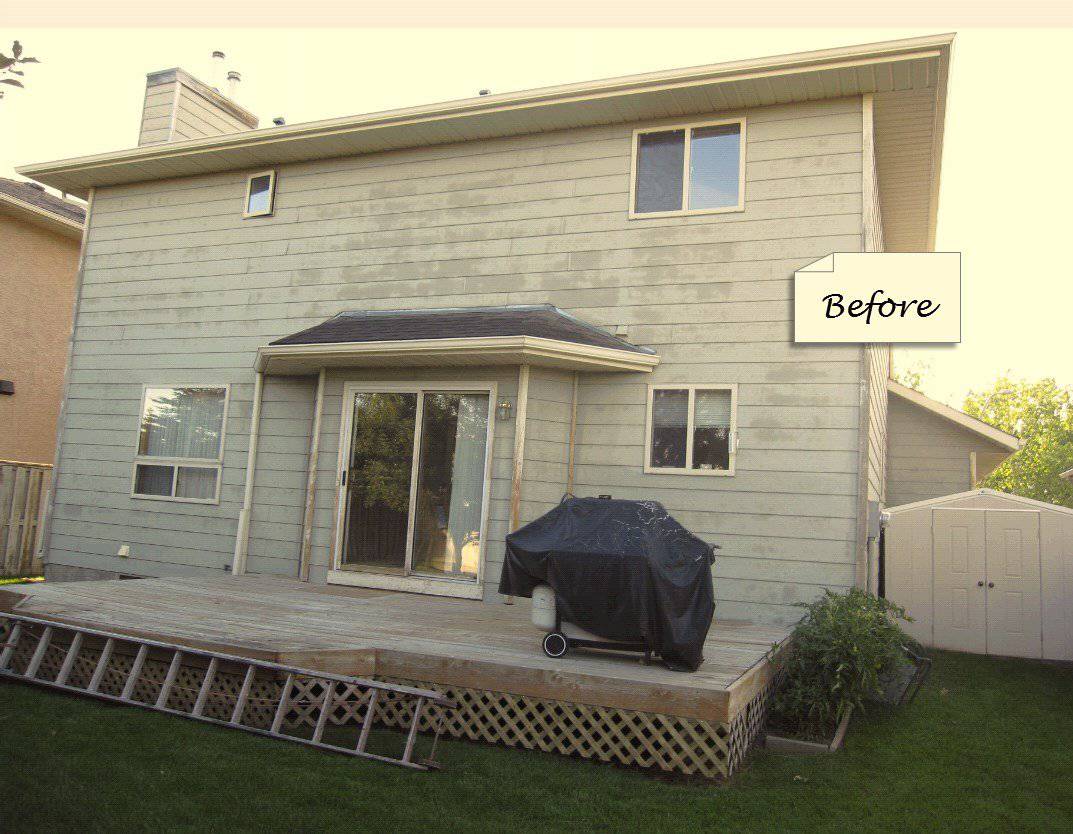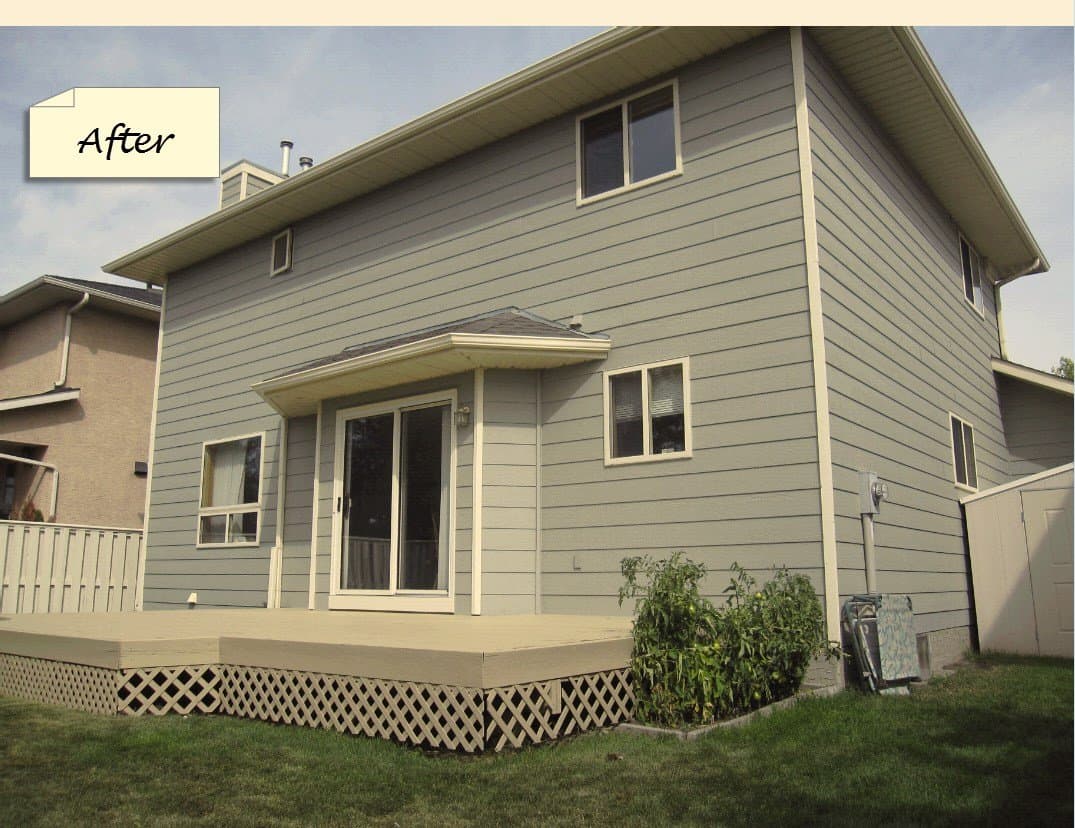 Before & After Photos
As you can see in the  Before Photo, the Hardie Board Siding was a mess! It was blotchy and faded. Here's proof that Hardie Plank does indeed fade in the sunny side of the house. Why was it so blotchy? I assume that the primer was not evenly distributed at the factory or it was somehow damaged in shipping or being stored. It could be a multitude of possibilities. We took no chances and sprayed a solid coat of masonry primer to seal the surface before painting the finish coats.
Examples of Paint Failure On Hardie Board
Above I show three examples of paint failure on Hardie Board. The one on the left is the house featured in this article...It was blotchy and uneven in appearance. Click on the photos if you want to see a close-up.
The photo in the center and the picture on the right show some serious paint peeling on Hardie Board. With  patience and know-how,all of the above were repaired and made to look as good as new.
We'll be glad to help
Contact Us